Orlando Florida was host to the 2017 Kitchen & Bath Industry Show (KBIS), our industry's largest trade show, featuring more than 600 companies displaying their latest and greatest.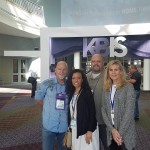 Innovative storage was a dominant trend we saw at KBIS. Numerous manufacturers are making kitchens more functional and easy to use.  We saw creative wine storage options, drawers in drawers, toe-kick drawers,  drawer inserts that help organize knives, utensils, cutlery and other kitchen gadgets.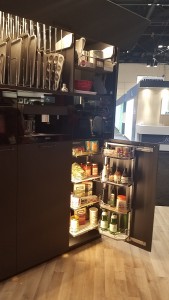 We even saw drawer inserts designed to hold Keurig coffee pods. With so many options, we can't wait to help our clients incorporate them into their space.
Kitchen cabinet manufacturers understand that kitchen islands can serve multiple purposes.  One of our manufacturers unveiled a floating island that doubles as a home office. The island featured power, USB connectivity, file storage and space for a printer all hidden underneath a movable countertop that can double as an eating area or working desk.
Oversized drawers as long as 72 inches were featured throughout the show, check out this one accented in leather.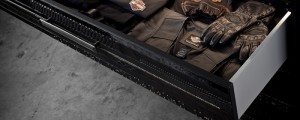 The use of mixed materials – leather, stone, wood and metals  – is an emerging trend that provides our clients with an almost unlimited array of options to make a distinct design statement in their homes.
Our customers will have lots of new choices in paint colors this year as many manufacturers are offering some hot new colors not only in cabinets, but also in sinks and faucets.
Gray is still hot with many cabinet manufacturers. Several were showing different twists and shades of grey at the show.  Many of the new grays had a purplish tint.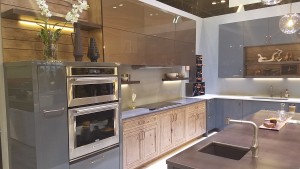 Use of pops of color with blue/green, mustard tones and brownish reds were quite popular.
Another stand out trend was interior cabinet lighting. It has definitely grown up.
Rectangles were the predominate shape with loads and loads of floating shelves.  Many of the displays incorporated the use of planters within home interiors.
One of our major countertop partners had a wowing display of new products.  One display featured a customized gas burner that can be integrated directly into the counter without needing a glass or stainless surface.
We returned from KBIS with many, many ideas that will help you create a dream home.  If you are interested in learning more about the latest trends in kitchen and bath design, please give us a call at 407-629-9366 or give visit our showroom at 935 Orange Ave Winter Park, FL.
Paul Greenspan is a 30 year Veteran of the Kitchen and Bath industry and has been published in a number of local and national magazines. He has taken leadership roles with the National Kitchen & Bath Association, Bath & Kitchen Buying Group, and others. He is currently the General Manager for Central Kitchen and Bath in Winter Park Florida. If you would like more information on Kitchen or Bath remodeling check out his website: centralkitchen.dev or call 407-629-9366