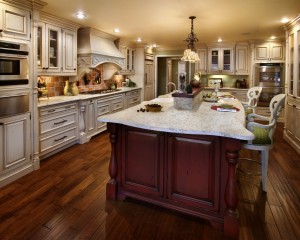 Kitchen islands are wildly popular and have become the centerpiece of many kitchens.  For nearly 40 years, kitchen islands have withstood the test of time. In fact, they are largely responsible for making open-concept designs work, but not all islands are created equal. We work with customers to specify islands that maximize space and storage, compliment style and enhance design.
To help determine if an island will work in your new kitchen and identify the type that delivers the most benefit, make a list of all of the tasks that you and your family would perform at the island. These may include dining, meal preparation, homework, laundry folding, entertaining, relaxing and so on. Extra countertop space is an obvious benefit of an island. If you placed your cooktop in the island, that would allow cooking from both sides, would that enhance dinner parties and entertaining?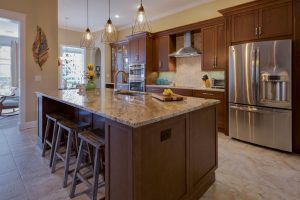 Would you like to have a second sink? If you don't have a lot of wall space, could your island be home to your microwave, steam oven or other small built in appliances? We've designed islands with beverage refrigerators, wine storage and dishwashers underneath the countertop. For other clients we've incorporated open shelves where they could store cookbooks or display everything from knickknacks to family heirlooms. Almost every island we design includes electrical and USB outlets. We also find creative ways to illuminate islands with overhead lighting, in cabinet lighting and under cabinet lighting.
Form follows functionality when it comes to designing an island that will exceed your expectations. We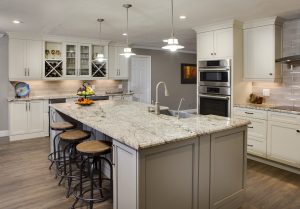 present our clients with different shapes and sizes depending on needs and preferences. If there is sufficient space, we ask if the client would like built-in seating, semi-attached tables or a double island. We also work with our clients to determine the edges and number of surfaces that they want. Because islands typically are the centerpiece of the kitchen, we make sure there is sufficient storage to help prevent clutter that might distract from the look and feel that our clients want to achieve with their new kitchen.
The style of the island should match the décor of your home, regardless if it is traditional, transitional or modern. Many of our clients opt for a waterfall counter that is suitable for both contemporary and traditional kitchens. We often carry the color scheme from adjoining or adjacent rooms to provide consistency of image throughout the home.
If the island will serve both as the focal point and primary workstation of the kitchen, opting for high quality, durable and beautiful materials is an investment that pays dividends year after year.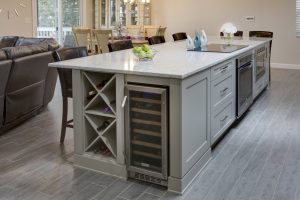 Quartz has gained in popularity in recent years because it is easy to maintain and three times harder than granite. Quartz is also one of the most durable materials used for islands, having the highest resistance to scratching, staining and heat damage. Granite and marble need to be sealed, polished and reconditioned over time. Quartz does not. It also is nonporous, nonabsorbent and offers zero emissions of volatile organic compounds or other emissions.
Island size depends on available space and also usage. If you incorporate a cooktop into the island, we also need to factor in ventilation. If the island sink is the primary one used in the kitchen, it typically makes sense to incorporate the dishwasher into the island.
Length of the island is based on the amount of available space in the kitchen. At a minimum, there should be at least four feet long by two to three feet wide. If space is available, we've designed islands that are seven to eight feet in length. Our rule of thumb is to leave at least 36 inches of floor space between the end of the island and cabinets or a dishwasher. We make sure that all doors and drawers will open comfortably and it's easy to load and unload. We also make sure that the island can seat our clients and their families comfortably without the need to watch knees when they sit. This is accomplished by specifying a 10 to 15-inch overhang in seating areas.
The height depends on seating preferences and capabilities. If our client prefers bar stools for the island,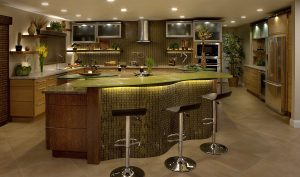 we specify island cabinets that are 40.5 inches high (42″ Counter height). If our client wants counter stools the height for cabinets is around 34.5 inches (36″ counter height).
If you would like to know the type of island that would work best in your kitchen space, give us a call at (407) 629-9366 or visit our showroom at 935 Orange Ave. Winter Park, FL. Your island is the centerpiece of the most important and used room in your home. It should be beautiful, functional and make you smile every time you walk into your kitchen.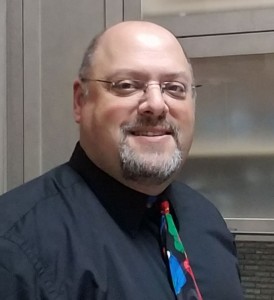 Paul Greenspan is a 30 year Veteran of the Kitchen and Bath industry and has been published in a number of local and national magazines. He has taken leadership roles with the National Kitchen & Bath Association, Bath & Kitchen Buying Group, and others. He is currently the General Manager for Central Kitchen and Bath in Winter Park Florida. If you would like more information on Kitchen or Bath remodeling check out his website: centralkitchen.com or call 407-629-9366