Designed for entertaining
The kitchen is probably the hardest working room in the home. A number of our clients renovate their kitchen to improve the function and style of the space making it easier and more enjoyable to entertain friends and family.  A number of our remodels are in homes that are 25-35 years old.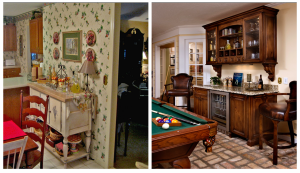 Often they will still have the original Oak face frame cabinets the builder installed. In many cases the lighting is terrible. We approach a project of this type by working closely with clients to determine their dreams while assessing their needs. Are they looking to reconfigure the space or simply enhance the space? This question speaks not only to goals but also to budgets.  We also ask how our clients want their new space to feel when the project is completed.
Clients with limited space almost always want their new kitchens to be more functional and open. There are options that we can recommend that can conserve space, like where to put the Microwave or what size Refrigerator would work best.We like to keep as much open counter space as we can so that when you entertain, you don't have to find a place to hide everything that you keep on the counter.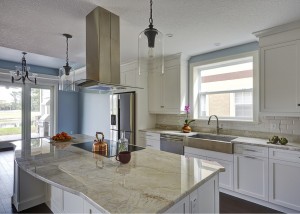 Natural lighting with a mix of ambient and task lighting help to create a space that will draw you guests in.  Open shelving has become increasingly popular in kitchen design. Open shelves help to break up a solid row of wall-mounted cabinets and provide opportunities to display art and kitchenware. If the kitchen has room for an island, it should be a multiple task area. It's not just a place to roll out dough or chop vegetables.
Placing stools around an island expands functionality by allowing the island to also serve as gathering place for your guest while keeping them out of your way while cooking. Many times we will design the island in a contrasting finish to create a focal point for entertaining.  If there is not room for an island we may look to open a wall to the adjoining room to create an atmosphere of inclusion with guests in the other room. Sometimes that can only be a doorway, anything that allows you to see and connect with your guests creates an environment for entertaining.
If you have questions on how to create a kitchen that is ready for entertaining, let us know. We are here to help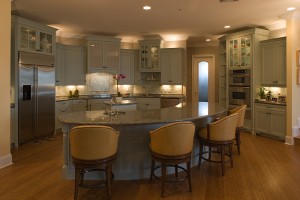 .
Paul Greenspan is a 30 year Veteran of the Kitchen and Bath industry and has been published in a number of local and national magazines. He has taken leadership roles with the National Kitchen & Bath Association, Bath & Kitchen Buying Group, and others. He is currently the General Manager for Central Kitchen and Bath in Winter Park Florida. If you would like more information on Kitchen or Bath remodeling check out his website: centralkitchen.dev or call 407-629-9366.