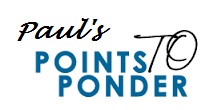 What role do your kitchen cabinets play in decorating your house?
When designing your kitchen you should consider the role cabinets play in your overall home design. Kitchen cabinets take up a large amount of wall space in your home and they can a feature that you highlight or an accent that you downplay. Besides the general purpose of a kitchen project are you looking to draw attention to or away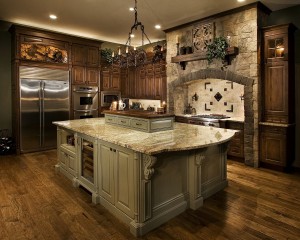 from the cabinets?
Draw attention to your beautiful wood cabinets with rich tones and elegant hardware, or do you go with a painted cabinet with a stunning countertop?
Making your Cabinets a Feature:
Cabinets. Of course the main purpose of your cabinets should be function, making sure you have the proper storage for your use. (Look for some helpful hints on this toward the end of this blog) Selecting your cabinets can be a daunting task. You will need to consider door style, wood species, stain, and design.
Eye catching cabinets need to have contrast from the area around them, they need to stand out. In this case the floors, counters and walls will typically blend together as to highlight the cabinets. Light or dark is a personal choice as long as you create a contrast to help your cabinets stand out. Same goes for painted cabinets, you will want colors that stand out from the rest of the room.
Design. There are so many factors that go into design and when you are creating a statement there are even more details to consider. Just about anyone can "slap cabinets on a wall" to create a kitchen. But when you DESIGN a kitchen every detail needs to be considered.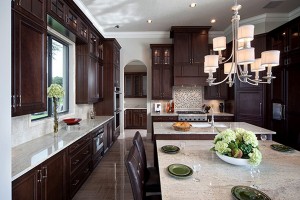 Are you using staggered heights or depths? Will you use more than one finish (stain) on your cabinets? Perhaps the island will be in a different color, often more bold as to become the feature of the space. Will you use embellishments to accent the cabinets? Items like stacked moldings, light valances, or appliques can totally change the look of a design.
Hardware.   We often refer to cabinet hardware as "jewelry for the kitchen". Hardware can either dress up or dress down your cabinets. There are 1000's of choices so try to narrow down your thoughts on the overall look. This is also an area that can make or break a budget. Good hardware can cost anywhere from $15.00 to $150.00 per piece. Consider using more than one hardware design. Perhaps picking out 2 to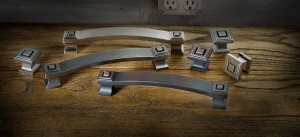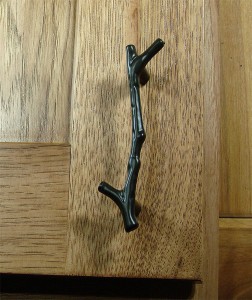 4 wall cabinets to get hardware that makes a bold statement and going with something more reserved (and less expensive) for the rest. Another option is to do fancier hardware on the drawers and not on the doors (or vice versa).  Make sure you ask what the hardware is made of, I prefer hardware made of solid brass.
Downplaying the role of your cabinets:
Perhaps you found a granite that is so unique that it is a statement all by itself? In this case you may want to downplay the look of your cabinets to accent the stone. This can also be true for others features like Tile, Wall Covering, Back Splashes, etc.
Cabinets. In this case, blending is better. You will want your cabinets to blend it the surroundings. In this case we are not looking for eye catching but something simpler. Clean lines, soft tones, nothing to bold.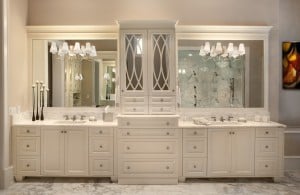 If you are using a painted cabinet, a color close to the wall color will help them blend in. This is also useful for small spaces to make them look larger than they appear.
By making these kinds of choices, your feature item, let use granite counters for this example, will really stand out and draw the attention.
Hardware. Unless the hardware is the "feature" you will want to go with something unobtrusive,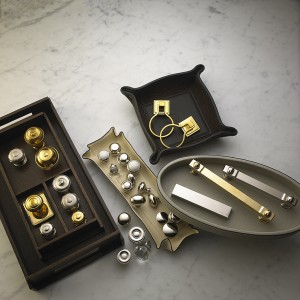 A simple knob or handle in a finish that blend well with your cabinets is a good choice. It can also help the budget as these are usually less expensive.
Do you have a question you would like us to look at? Email me at: paul@centralkitchen.dev
Paul Greenspan is a 30 year Veteran of the Kitchen and Bath industry and has been published in a number of local and national magazines. He has taken leadership roles with the National Kitchen & Bath Association, Bath & Kitchen Buying Group, and others. He is currently the General Manager for Central Kitchen and Bath in Winter Park Florida. If you would like more information on Kitchen or Bath remodeling check out his website: centralkitchen.dev or call 407-629-9366.