Contemporary and modern motifs are hot right now. Our clients are gravitating toward open, clutter-free, minimalistic spaces with clean lines. The clean look is devoid of curves and is more linear in its look and feel.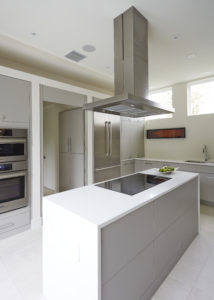 Contemporary kitchens celebrate natural materials whether they are stone, quartz or solid wood cabinetry. Contemporary motifs often feature frameless cabinets that offer smooth surfaces. The tile we specify for a contemporary kitchen also is straightforward. The edges are sharp and clean. The same approach is taken when we specify countertops for a contemporary kitchen. Quartz is extremely popular because of its clean look.
A well-designed kitchen is an organized kitchen. We often specify special storage compartments for drawers and cabinets so that countertops can remain clutter free. Contrasting cabinets colors and materials with countertops, backsplashes and floor and wall coverings can add a wow factor to a contemporary kitchen. Imagine gray wall cabinets with white base cabinets. In contemporary kitchens, opposites attract. That's why we don't subscribe to limiting color palettes for our clients who want a contemporary look. What's more important is how the color selected will contrast and complement with other materials in the kitchen.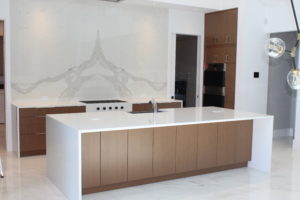 Lighting fixtures tend to be minimalist and offer clean, uncluttered lines.
Less is typically more in contemporary kitchen design. Open floor plans, expansive floor and countertop space and natural light when possible are hallmarks of contemporary kitchen design.
For faucets, cabinet and door hardware and other fixtures, we recommend polished chrome finishes. Chrome is timeless and easy to clean.
If you are interested in exploring a contemporary design for your new kitchen or bath, please call us at (407)629-9366 or visit our showroom at 935 Orange Ave in Winter Park.