Houzz.com recently surveyed 2,600 individuals who completed a kitchen remodel in 2019 or who plan to undertake one in the next three months.
Style Trends
A large majority of homeowners (85%) change the entire style of their kitchen when they renovate. In 2019, transitional was most popular, selected by 21% of homeowners, followed by contemporary (16%), modern (15%) and traditional style (11%). Transitional cabinets, fixtures and other kitchen staples combine both traditional and contemporary styles. Transitional has been the most favored style for three years now.
Cabinets are King
Cabinets are the number one choice for upgrading during a kitchen renovation. 94% of homeowners reported upgrading cabinets as part of their kitchen renovation with 68% opting to replace all cabinets.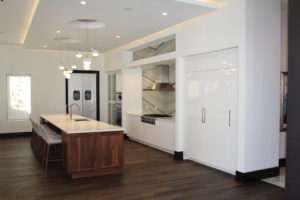 White Remains Number One
White kitchen cabinets continue to reign atop of the color heap in kitchen renovations with 45% of homeowners selecting white cabinets for their new kitchens. Wood-tone cabinets were the second most popular cabinet option (22%) followed by gray as the third most popular color choice.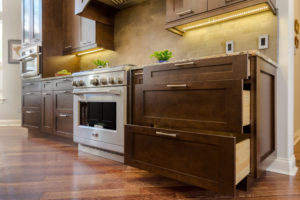 Shake, Shake, Shake, Shaker
More than six in 10 homeowners selected a Shaker-style door front for their new kitchens. The second most popular style was a flat panel at 21% followed by raised panel doors at 18%. A majority of those replacing their cabinets during their kitchen remodel selected custom cabinets (40%). Another 36% of homeowners opted for semi-custom cabinets with a much smaller percentage of homeowners selecting stock (12%) and even fewer choosing ready to assemble. The difference is in the quality.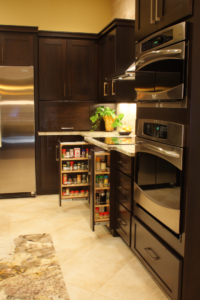 Specialty Storage Draws A Crowd
A well-designed kitchen is an organized kitchen. More and more clients are starting to appreciate the benefits of drawer and cabinet organizers. Cookie sheet or tray organizers were most popular, selected by 50% of homeowners upgrading their cabinets. 63% of homeowners selected drawers with pull out waste and/or recycling drawers. Lazy Susans were also popular organizers picked by 40% of homeowners renovating their kitchens. Another 36% of remodelers featured pullout or swing-out drawers. Nearly half of homeowners that renovated their kitchen upgraded their pantry as well.
What's the right style, cabinet color and door front and organization tools for your dream kitchen? Give us a call at (407)629-9366 or visit our showroom at 935 N. Orange Ave Ste 102 Winter Park FL 32789 and let us show you how we can make your dream a reality!