By Paul Greenspan
Central Kitchen & Bath Design Studio
Did you know that the average American family washes 300 loads of laundry per year? That is a lot of laundry! The laundry room of yesterday may not look like the laundry room of today. Often hidden in the basement or hallway closet and treated as an after thought, the laundry room has gained more prominence in today's home.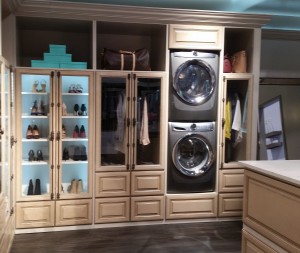 Shouldn't your laundry room look as nice as the rest of your house?
Convenience and ease of use are at the forefront of today's design. Whether you are going big or small, home owners want their laundry room nearby. Using a showroom professional, you can maximize space and create a design that works with the rest of your home.
Top load, front load, stacked, whatever you are most comfortable with, can be incorporated into the design.  Some other ideas that can go into a laundry room include:
Deep utility sink for soaking hand-washed items and washing smaller pets
TV and/or stereo system
desk/office
Wine refrigerator
Pet washing station or sleeping quarters
Rolling laundry carts
Fold-down ironing board
Storage cabinets/Pantry
Drying racks and rods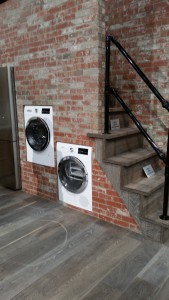 I have included with this post a number is Laundry Room images and some helpful energy saving tips from houselogic.com on getting the most out of your washer and dryer.
Get the Most From Your Washer
Ninety-percent of the cost of running a washer goes to heating water. Only 10% goes to electricity needed to run the motor. Here's how to save money while getting your clothes clean.
1. Use cold water. You can save a bundle by washing your clothes in cold water, which is a perfectly efficient way to clean most clothes. Washing a load in cold water costs only about 4 cents, compared to washing in hot/warm water for 68 cents. Annually, you'll save $40 with an electric water heater and $30 with a gas water heater.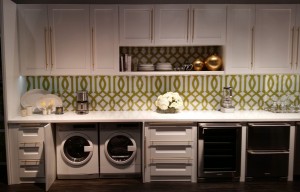 2. Run full loads. It takes as much electricity to wash a small load as it does a full one, so you'll save money by only washing full loads.
3. Update your machine. If you don't already have an Energy Star-certified washer, it's time to get one. These energy-efficient machines use 15 gallons of water per load, compared to 23 gallons for a standard machine. If a gallon of water costs you a penny (the U.S. average), you'll save $24 a year.
4. Buy a front-loading machine. They use two-thirds less water than top-loaders, reducing water and heating costs.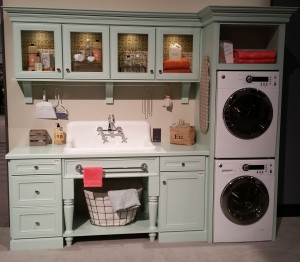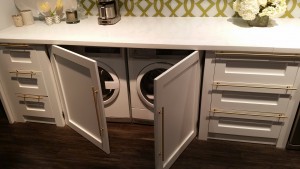 Get the Most From Your Dryer
5. Spin faster. The faster you spin clothes in the washer, the less time they'll need in the dryer. If you have the option, chose a faster spin cycle.
6. Clean lint filters. Remove lint after every load, and clean ducts annually. Your clothes will dry faster, using less energy.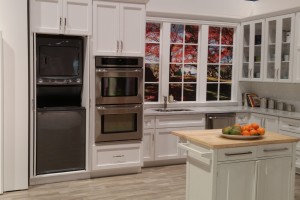 7. Warm it up. If possible, locate your dryer in a warm laundry room rather than in a cold basement. The warmer the air coming into the dryer, the less energy your machine will use to heat it up.
8.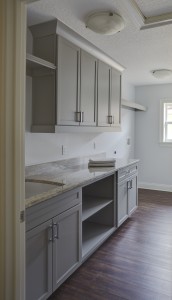 Go gas. Drying a load of laundry in a gas dryer generally costs 15 to 33 cents less per load than an electric dryer (32 to 41 cents).
9. Keep it full. Dry only full loads, and try not to mix fast and slow-drying clothes — a practice that wastes energy by continuing to dry clothes that are no longer wet.
10. Let nature help out. When the weather is warm, cut your energy costs by drying clothes outside on a clothesline. If HOA regulations don't allow you to set up a clothesline outside, then use a stand-alone drying rack inside.
Paul Greenspan is a 30 year Veteran of the Kitchen and Bath industry and has been published in a number of local and national magazines. He has taken leadership roles with the National Kitchen & Bath Association, Bath & Kitchen Buying Group, and others. He is currently the General Manager for Central Kitchen and Bath in Winter Park Florida. If you would like more information on Kitchen or Bath remodeling check out his website: centralkitchen.dev or call 407-629-9366.