We realize that, now more than ever, many of you are spending more time in your home than ever before. You might be noticing more, examining things closer and taking stock. Perhaps your kitchen isn't quite the way that you wish it were. That's where we come in! Currently, we are offering virtual/telephone consults as well as in person meetings and can help you imagine a new kitchen beyond your wildest dreams and expectations.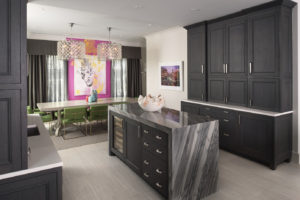 Color plays an important role in your kitchen design! Our team of designers can help you identify the color scheme that's best suited for you and your space. White cabinets continue to dominate remodeling, accounting for more than 40% of all kitchen remodeling projects. Blue and green tones are trending in new-kitchen design and mixing these into your new kitchen either as base or upper cabinets, as appliance colors or as accents provides a monochromatic effect that can be electric.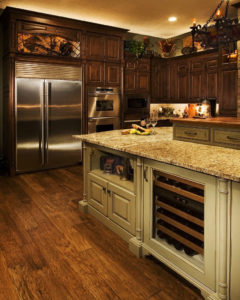 If you are drawn to white, you can offset its potential to feel cold and clinical by mixing in different colors and materials. You can accomplish this with wood floors, countertops or a butcher block either as standalone or incorporating a wood cutting board into a countertop. Another option to consider is white upper cabinets with black or darker lower cabinets. Imagine a white onyx countertop contrasting against black lower cabinets. Classic and gorgeous.
If you want to incorporate different colors beyond a black and white palate into your new kitchen, look to mother nature for inspiration. We often are drawn to colors found in food, ranging from olives and champagne to blood oranges and eggplants to make a dramatic statement and focal point when used as a backsplash or wall color.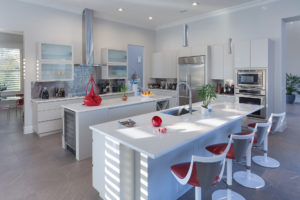 Mixing off white with white is another option if you want to break up the stark feel of an all-white kitchen. The end result is a calm feel to the room.
Red, white and blue as a color combination can be perfect for a kitchen to generate a vibe that combines cleanliness, softness and vibrancy. This color combination typically works best when red and blue are used as accent colors that can really pop when used next to one another.
What colors would work best, and where they should be incorporated into your new kitchen? Find out by giving us a call at (407)629-9366, or plan a day to come out to our showroom at 935 N Orange Ave Ste 102 in Winter Park. One of our designers would be delighted to show you around. For additional inspiration at home, visit our website at www.centralkitchen.com.